Math Apps For Little Techies!
The millennial kindergartners are not new to the latest tech gadgets. They are introduced to these devices when they are just a few months old. And growing up, they are so besotted with the apps and games that they handle them all like pros. A kindergartner can teach you to download an app, update it, use it and even uninstall it.
Many app developers have found ingenious ways to harness this profound intelligence and use it wisely to help these little techies understand and ace the basics of Math. With this millennial generation having easy access to these gadgets, schools are also making use of them to make Math classes more exciting.
Math apps are aplenty on the Play Store. In this article, we make it easy for you by listing out the 4 best Math apps for kindergartners in a bid to save you from the hassle of searching relentlessly.
Explore More About : Science And Technology For Kindergarten
Free Brilliant Math Apps
1.Moose Math
Developed by the award-winning Duck Duck Moose developers, Moose Math is perhaps one of the best examples of math technology for kindergarten. Moose Math is made more fun with cute characters like Moose, Yaya, Zas, Puck, Moji and Moco. Moose Math is great in terms of audio and video quality. The topics are very much in alignment with the core syllabus of kindergarten and first grade which includes counting, shapes, addition, subtraction and geometry.
The activities are designed by educators from the Stanford Graduate School of Education. The activities can be monitored by parents to ascertain the progress of children. Moose Math is available for free for Android and iOS phones.
2.Park Math
Another brilliant app from Duck Duck Moose, Park Math comes with three different levels. Apart from the usual activities, Park Math also teaches greater and lesser than, halves, patterns, etc. Park Math is available for free for iOS phones. We recommend this app because it has won iLounge's Best Kids App of the Year award.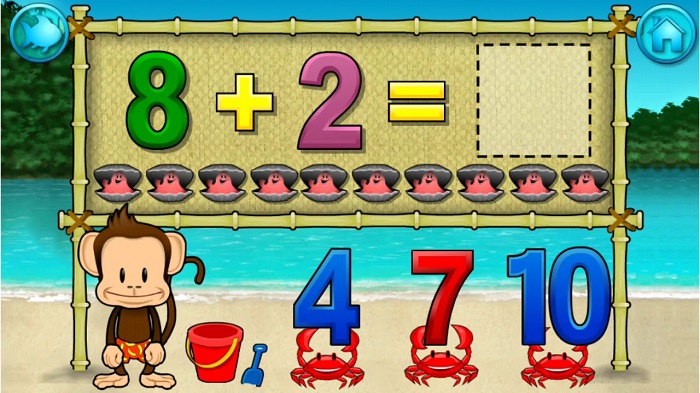 Paid Apps For Great Math Activities
3.Monkey Math School Sunshine
As one of the top-rated preschool apps, Monkey Math is the perfect app for children who are struggling with the basics of the subject. Vibrant, colourful and excelling in video quality, Monkey Math School Sunshine teaches patterning, sequencing and counting apart from the other basic theories for kindergartners. Monkey Math comes as a paid app for both Android and iOS users.
4.Splash Math
A highly recommended math technology for kindergarten, Splash Math is slightly on the expensive side and available only for iOS users. It is, however, recommended for school use, as there is a classroom edition. The activities are aligned to the common syllabus and teachers can keep an eye on the progress of their students. Splash app helps kindergartners learn all the basics. With incredible sound and picture clarity, this app is surely worth the money.
Children love technology and making good use of it to teach the basic concepts of Math will inculcate an affinity for the subject in all kindergartners.