Fun With Pool Parties
Pool parties are fun. If you have a kids size pool or a lap pool, it is a perfect resource to arrange for a funky pool party for the kids. Don't make it a regular pool party where the kids will be bored. Have a funky theme and decors, have a yummy spread of food, kids are sure to have a good time at the pool. Apart from just providing towels, goggles and other accessories make it look and feel different. There are plenty of ideas that you can implement to have a fun pool party for kindergarten.
When it comes to parties, you need to set the mood right. And, you get into the party mood with festive decor and bright colors. Make your pool area look picture perfect. Arrange for sprinklers, pool noodles, beach balls to have a splash of fun. Along the poolside have a table set, so they can munch on as they enjoy the pool view. Set a mermaid theme for the table and decorate it with seashells and glitters. Make squishy sponge bombs and ping pong balls the kids can play in and outside the pool.
Have balloons and inflatables in the pools. If your guests are pool fanatics then they are bound to spend more time in the pool. Kids will have fun playing with the balls and having water plays with inflatable. You will have a hard time getting them out of the pool. Plan for a fun momentous that the kids can take back. It can be a beach ball party invite. This will be like a pre party gift that will get them excited. Instead of a paper invite you can give this ball invitation and ask them to bring it to the party. At the end of the bash, you can give them cool shades, starfish hair bands, towels, water bottles, beach jars, spray bottles and fish in slime bags.
Explore More About : Kindergarten Round-Up!
Have A Great Pool Party Decor And Activities
The decor must be inviting. There are plenty of sea themed decor ideas which are also cost effective. It sets in the mood and kids will be pretty excited about it. Use colorful craft papers and tissue papers to make cute pineapples and other tropical items to give an island inspired theme. Use bright colors and yellow poufs to create colorful decors. Jellyfish lanterns is another bright decor theme that can attract the kids. It creates an under the sea aura for the kids. Use colorful paper lanterns, ribbons and crepe party streamers to make these colorful lanterns.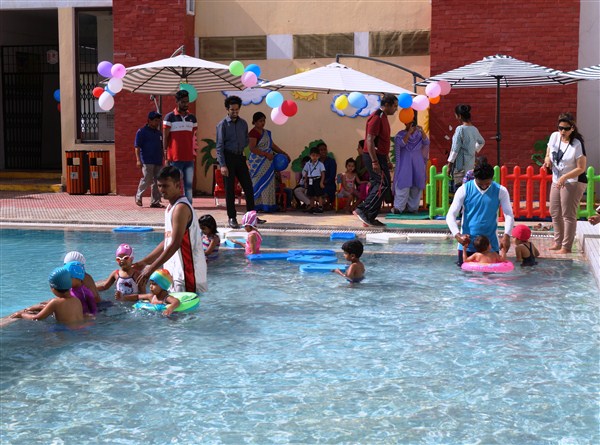 Beach ball garland is another splendid idea. You just need to select colorful mini beach balls and strings to tie them together. You can also select styrofoam balls and give them colorful paint. Decorate the food table and the wall with colorful tablecloth. Add loads of colors with umbrellas for shade and decor. If you have some area around the pool, arrange for some interesting activities the kids can engage with other than the being in the pool.
Arrange for a noodle sprinkler for a splashing good time. Use your garden hose and a splash pad to make an inexpensive sprinkler. Have a wading pool filled with sea life. Use a hose or water gun to squirt and race them. Organize for cannonball contest and a good old game of marco polo. Sprinkle the kids with water even before entering the pool by hanging water balloons. Have a contest on how much they can burst using a bat or paper tube. Kids can have fun outside the pool with these wonderful activities. Apart from these, also have a sunscreen station where you can stock kid friendly sunscreen Lotions for them to apply.
Organize Yummy Pool Party Treats
Food is an integral part of any festival or party. When you have a bash for a long duration, you need food and drink to energize your guests. Have a cleverly planned pool side table filled with snacks and yummy treats. Make is appetizing and colorful. You can depend on store bought snacks like dairy free waffles to ice-cream. Take some time to explore the local grocer and make a list of healthy and unique yummy treats that kids will enjoy. Mix different snacks and chops bites in each bowl to make a variety of snacks mix. Present a carved watermelon perfectly themed for the bash. Kids are sure to gobble up the yummy fruit.
Buy liquorice based pool noodles. Let this be the centerpiece and kids will enjoy this sweet treat. Snow cone cupcakes can make the pool table look colorful and delicious. It is a cake in an ice cream shape that does not melt in the heat. Cute cookies is another yummy option for kids. Make jello cups with cream, topped with gummy bears and umbrellas. Also have healthy options like salads out of fresh fruits and vegetables. Plate them in attractive snack bowls and dips. Water punch and ice popsicles are best options to beat the heat.