Carnival Fun For Kindergarten
Kids love carnival parties. Kindergarten carnival parties are replete with balloons, games and painted with bright colors. Have a carnival themed birthday party and you can find them having gala time. A carnival should have a good load of games, food and other fun activities. The entire event should be spaced out to manage the crowd better. Have a themed carnival cake ready. This should be the final desert. Keep count of winners in each game and have prizes set for each winner and also for the overall champion.
Like a real carnival have tickets for each game. Organize a ticket counter where kids can redeem each ticket for a gift. Have a backboard to keep track of the scores of each kid. Fetch attractive prizes from kids stores. It can be balls, sun glasses, yoyo, gumballs, lollipop, candy bars and more. Arrange them in jars and have kids select one for each ticket. This will be a perfect end to a fun filled carnival. You can be sure that each one of them has enjoyed themselves and they go back home with a memento and lots of memorable moments.
Explore More About : Pool Party For Kindergarten
Decorations For A Fun Carnival
A kindergarten carnival party should have an appropriate decor. You don't have to splurge on your money and instead use what you already have at home. Put up colorful tents with the colorful linen sheets or blankets you have stored in your closet. Use clotheslines, clips and ropes to hang the blankets around the tree in your backyard. If you do not have trees, stick tents or volleyball poles to make the tents. It is not easy to do it on your own. Have other siblings or parents to help you out with the venue. They can also help you to man the carnival.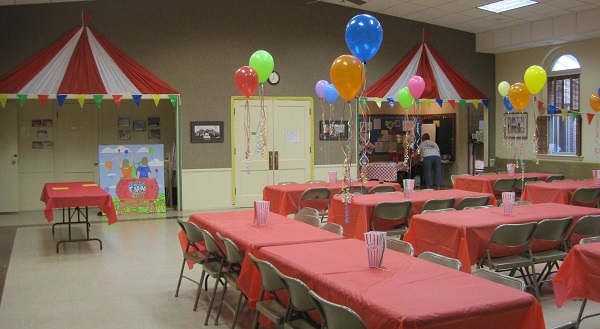 Make carnival invitations with cardboard papers, striped wrapping sheets, stickers and clothespin. Give party details on the back of the invite. Use construction papers to mark directions. Clearly have way in and out pointers to avoid confusions. Convert your furniture into a food tent. Use bright table cloths, balloons and umbrellas to make a fun filled food tent. Collect colorful fabric and tie them on the chair. Make garlands out of paper straws to welcome the guests. This can be used as a decorative piece in the kids play room.
Fun Activities To Enjoy The Carnival
Carnival is not complete without games and activities. Plan out the games and chalk the rules for each game. Keep the games competitive, interesting and exciting. It can be simple games like throwing a ring or balls into empty bottles. Try fishing in the water as an activity. You can have water made out of papers with hand made fishes. Fit them with metal clips. Use magnet attached poles to pick the fishes out of water. The kids will have to do this blindfolded. Use spray guns to have a fun filled game by squirting on a small sized ping pong ball to topple it. You can make these with construction papers, foam boards and golf tees. The kids will get a ticket for each knocked off ping pong ball.
Clothespin drop game is a challenging game for kids. They need to aim and drop each pin into the mouth of a glass bottle. For each successful drop they will get a ticket. Ping pong ball toss is a similar kind of game where each child needs to toss the ping pong balls into drinking glasses that are arranged into triangle format. For each of these games the kids get another turn. So, have fun organising fun filled carnivals.