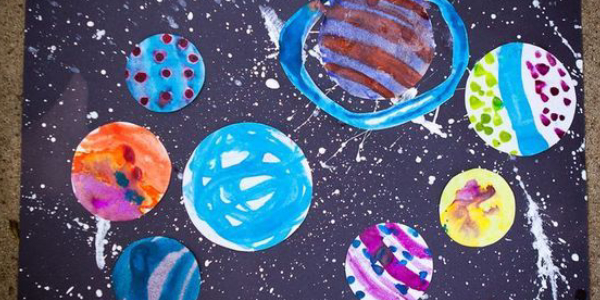 Space Activities For Preschoolers To Motivate
Your preschoolers will definitely love to go on a spacewalk just like going with you for a nature walk. As space activities for preschoolers will involve their five senses, these activities will help the children to get their senses sharpened. You can help your preschoolers to make their telescopes to gaze at real stars at night. You can help them to create galaxies of stars with star stickers. Paint a cardboard roll with blue paint and silver glitter paint to create the universe. Stars can be red, blue or yellow. Red-colored stars are large in size, the blue colored stars are small, and the stars in yellow colors are in medium size. You can also help them to make star wands with stars that twinkle.
Paper Plate Planets – This activity may need paper plates, markers, pencil, tape, plain paper, and peel and stick glitter foam. You can now help your preschoolers to make different shapes from the glitter foam. You can ask them to name the planet and the number of moons it will have. They can also include the time it will take to reach the planet.
Galaxy Dough – Your preschoolers may need your help to do this activity. Mix well the flour, cream of tartar and flour in a bowl. Add food colors to the hot water, baby oil and glycerin. Add this mixture to the flour. Mix well till a soft dough is formed. Add glitter to the dough so that the stars made out of it will sparkle like stars in the sky. Your preschoolers are now on their own to make different stars.
Art & Craft Space Activities For Preschoolers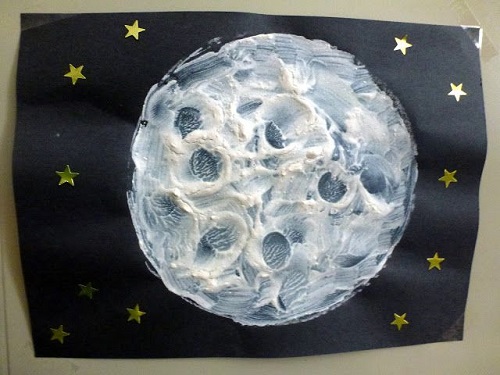 Interesting hands-on art and craft space activities for preschoolers will help them to spend their time fruitfully for it will help them to be creative and use their imagination to the best level.
Puffy Moon Craft – For this activity, you may need paper from a grocery bag or craft paper, white glue, scissors, shaving cream, and a marker. Draw a round moon of any shape. Allow your preschoolers to color it with crayons. Next, help them mix half-a-cup of glue and one and a half cup of shaving cream. Spread the foamy mix on the paper and allow it to dry. Let it dry for four hours. Allow it to dry overnight if there are thick parts of mixture spread on the paper. You can cut the moon with a surface that is uneven and looks puffy.
Explore More About : Spending Quality Time With Nature Activities For Preschoolers
Constellation SpaceCraft – This activity will motivate your preschoolers to explore more about space and the constellation of stars in space. To do this activity, you may need dark blue or black paper, yellow or white chalk, and star-shaped stickers. Let your preschooler draw any shape on the black paper with the chalk. Once it is done, fix the stars. Give a name to your constellation. You can even make stars from the sponge available in the kitchen. Draw a star on the sponge and cut it out. Mix the paint with the glitter and stamp your sponge stars in the paint. When the paint dries, the stars will sparkle.
Easy To Do Space Activities For Preschoolers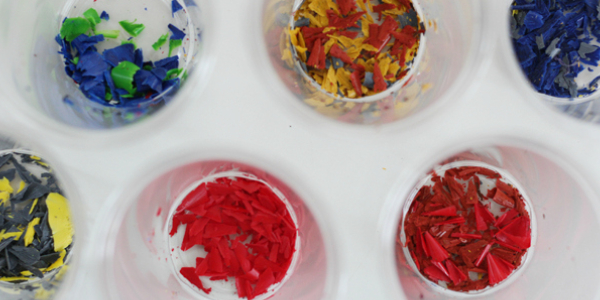 Spending quality time with your preschoolers will not only help you to relax, but it will also help to learn more about space through simple, fun-filled easy-to-do space activities.
Space Wreath – For this space activity for preschoolers, you may need paper plates, cotton balls, black glitter and black paints, oil pastels, clothespin, large and small stars, scrap-book paper, yellow glitter, circle-shaped punch and white colored cardstock. First, paint the paper plates with black and black glitter paint using the cotton balls to make the space wreath. Using the circle-shaped punch, help your preschoolers to punch out different planets. Color the punched planets in different colors with oil pastels. Then punch out stars in different sizes and shapes in yellow glitter scrap-book paper. Now glue the planets and stars on the painted wreath.
Planet Sun Catcher – This hands-on activity will encourage your preschoolers to know more about our solar system and the planets. You may need plastic cups, wax paper, crayons, tape, pencil sharpener, hole-puncher, iron, and string floss. First, write the names of the planets on the cups. Choose a crayon color for every planet. Allow your preschoolers to sharpen the crayons and gather the crayon shavings. Now you have to help your preschoolers to melt the crayons using the iron box. Sprinkle crayon shavings on the wax paper. Fold the wax paper half, and then iron the wax paper till the crayon shavings melt. Let the wax paper cool. Once it is cooled, you can cut different planets with wax paper. Punch a hole and strung the planets from the window. The textures created from melted crayons were a treat to enjoy.